Circus is all around us. We even talk circus in everyday life. My office, for instance, looks like a three-ring circus. That's because I'm juggling too many projects. Writing and promoting books while making presentations and visiting with kids at schools is a high-wire act. But it's fun to clown around with them. To get it all done, though, I sometimes have to twist myself in knots, like a contortionist.
You get the idea. How many circus phrases do you use or hear?
How and Why I Researched and Wrote We've Got a Job
For an overview of my hands-on research, take a look at my interview with Booksource Banter as well as Peachtree Publisher's Sunday Brunch Blog.
You can also watch me make a fool of myself trying out mini-trampoline and globe. (Be sure to watch Samer Sanallah casually walk on a globe twice the size of mine.)
Interviews About Writing and Researching Flying Kids!
Learn more about the troupes from the book!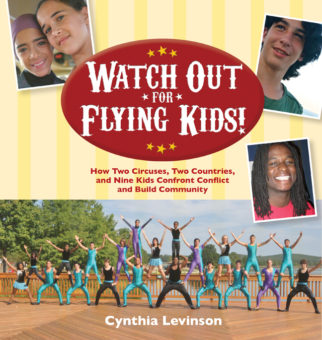 Learn More:
Resources for Teachers
Resources for Students
Awards & Reviews
Buy Now:
Indiebound
Barnes & Noble
Amazon.com
A portion of proceeds from sales of this book are donated to the Reggie Moore Memorial Scholarship* of Circus Harmony and to the Galilee Circus.