Awards for Watch Out for Flying Kids!
Featured Reviews
Responses from Readers
Oona said, "Your book opened more than a few doors to worlds I'd never imagine."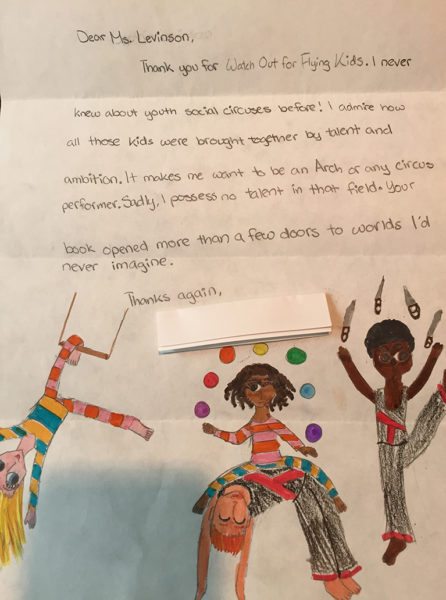 Of course, the Flying Kids liked the book, too!
More Reviews!
Kid Lit Frenzy: "This almost prompted me to ask the teachers I know that if they read no other children's nonfiction this year that they read and share this one with their students."
The Washington Post: one of the "best kids' books for September."
San Francisco Book Review: "Cynthia Levinson has written a marvelous new book…It will appeal to children as young as 9 and to people as old as 109 and deserves a broad readership."
Booksource Banter: "…truly expands my world…amazing story."
Friends Journal: "I recommend this book to individuals and meetings. I learned a great deal, enjoyed reading every word, and quickly came to care about the young people."
6th Grade Reading: "…beautifully done, fascinating book… a wonderful addition to every middle school, high school and public library."
The Write Stuff: "Her new book is really a stunner…five-star review."
Cato Institute: "a bunch of kids…do a better job of bringing a hope for peace to the Middle East than a generation of politicians…"
Mrs. Knott's Book Nook: "This book begs to be read cover to cover.  It's a fascinating story."
Sonder Books: "This is a wonderful, inspiring and informative book…"
Mackin Books in Bloom: "Young readers can live the life of teen circus acrobats while reading this inspirational book!"
Children's Literature: "Readers may want to run away and join the circus!"
Middle Shelf: "Loved the book."
International Literacy Association: "…bring[s] the story to her readers."
First Thursday Book Reviews: "…great job of bringing out how hard the kids worked at perfecting their athletic abilities and developing a professional attitude."
The Jewish Outlook (pages 12 and 78): "Cynthia Levinson is the kind of woman who throws herself into her work. Literally."
Splashesintobooks: "truly inspirational, and not just for children…"
Mainichi Newspapers (Tokyo): "…diversity is power, and that's most appealing."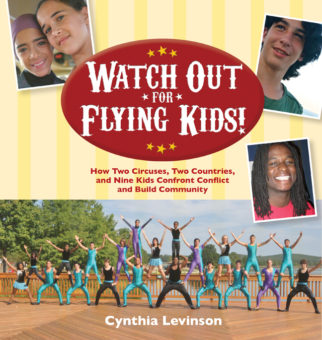 Learn More:
Resources for Teachers
Resources for Students
Awards & Reviews
Buy Now:
Indiebound
Barnes & Noble
Amazon.com
A portion of proceeds from sales of this book are donated to the Reggie Moore Memorial Scholarship* of Circus Harmony and to the Galilee Circus.