Awards and Lists
Featured Reviews
School Library Journal: "…a book bound to be remembered in the pantheon of historical child heroes… It is not cloying. It is not cute. It is, however, infinitely readable."
School Library Journal: "…a significant portrayal of Audrey Faye Hendricks and the Children's March."
Kirkus Reviews: "A vivid reminder that it took a community to fight segregation and the community responded."
The New York Times: "Levinson and Newton keep her story bright and snappy, emphasizing the girl's eagerness to make a difference…"
Horn Book: "The well-paced text captures a child's voice and presents time and place realistically."
Children's Book Council: "…remarkable and inspiring story…"
But, the most important reviewers come from readers!
More Reviews
Publishers Weekly: "Newton's bright, digitally assembled collages adeptly highlight the danger of the situation…while emphasizing the power of the marchers' collective efforts to push back against injustice."
Mr. Colby Sharp: "Audrey Faye Hendricks's story was so rich that the bell rang before we had even made it halfway through the book."
The Bulletin of the Center for Children's Books: "Audrey's third-person perspective is well represented and storytold, with short, punchy sentences especially vivid in conveying individual testimony and movement goals."
Parade Magazine: "Talk about it: Ask your child how she can best respond to wrongdoing when she sees it."
Librarian's Quest: "Many times it's like reading poetry with the rhythm her words generate.  She conveys the heart of a young girl beautifully… [S]hould be on every professional and personal shelf."
Here Wee Read: "…a beautiful and important non-fiction book that helps children understand they are never too young to make a difference… Perfect for reading with your little readers during Black History Month, Women's History Month or any time of the year."
Huffington Post: "Cynthia Levinson and illustrator Vanessa Brantley Newton have brought to life the experience of Audrey Faye Hendricks…"
Common Sense Media: "Charming, delightfully drawn, and cleverly put together, this book hits home… Cynthia Levinson does a wonderful job of telling the story through a child's eyes."
Time for Kids and Essence: "The story is also about knowing in your heart what is right and facing down your fear…"
Washington Post: A "best book for raising activist kids"–"The compelling story about white supremacy and the civil rights era illustrates the courage and personal sacrifice that activism requires…"
A Mighty Girl: A "moving picture book that proves you're never too little to make a difference."
KidsCANteachus: "Hope will always be more powerful than hate."
Colours of Us: "…an inspiring picture book that shows that you're never too little to make a difference."
Mrs. ReaderPants: "A fantastic way to introduce novels and units about the Civil Rights Movement." Mrs. ReaderPants also posted a blog.
Austin American-Statesman: "Audrey's story is showcased in "[The Youngest] Marcher," a picture book for younger readers, highlighted by illustrations from Vanessa Brantley Newton that take readers inside Audrey's world…"
Life, Literature, Laughter: "The Youngest Marcher reminds us that battles are never over and that we all can (and MUST) speak up and take action when we see injustice in our world."
Mom.me: "BEING BOLD and FEARLESS and FIGHTING FOR WHAT'S RIGHT isn't just for grown-ups. Not even close."
Mom Read It: "…books like The Youngest Marcher, with its powerful words and images, offer representation and affirmation."
Mother-daughter Book Club: "…an inspirational story with a message to resonate through the ages."
Geo Librarian: "…remarkable and inspiring story..."
Youth Services Book Review: "…excellent treatment of the March…"
Red Tricycle: "Kids will cheer for Audrey, equality and the rights of all children."
I'm Not the Nanny: "An inspiring story that will teach our kids that they're never too young to speak out."
Stuff Parents Need: "great example of how important a child's voice can be and how children aren't too young to get involved"
Miss Marple's Musings: "I would encourage every elementary school classroom and participating in Black History Month to acquire this new biography."
Pernille Rip: "This is a story that is meant to inspire us to know we can make a difference andinspire it certainly does."
Coastal Courier: "Textured, powerful illustrations…"
What is ML Reading?" "a beautiful, important book"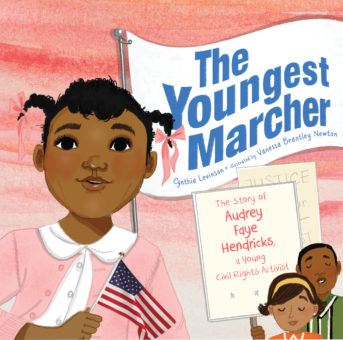 Learn More:
Resources for Teachers
Awards & Reviews
Buy Now:
Indiebound
Barnes & Noble
Amazon.com
First Book
A portion of proceeds from sales of this book are donated to the Jefferson County Head Start Program, where Audrey Faye Hendricks worked as an adult.