Information Sources about the Birmingham Children's March and about my Research and Writing
Please see the primary source materials, videos, links, interviews with me, and multiple other sources of information at Resources for Students.
Lesson Plans, Guides, and Standards Related to We've Got a Job
If you would like me to visit your classroom either in person or by Skype, please contact me. I do a great Readers' Theater in class and answer questions by Skype. Also, see my Author Visits and Presentations page for ideas.
"Cynthia Levinson has brought the real struggles, frustrations, and fears of the civil rights movement into my classroom!" 
Christa Armantrout, Talented and Gifted Specialist, Sommer Elementary, Round Rock (Texas) Independent School District
"I am truly excited about your book… It is PERFECT for connecting to students!"
Dena Lagomarsino, Language Arts Teacher, Ridgewood High School, Jersey City, New Jersey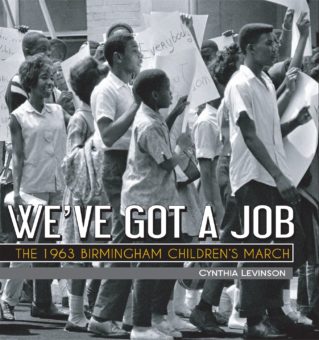 Learn More:
Resources for Teachers
Resources for Students
Awards
Reviews
Buy Now:
Indiebound
Barnes & Noble
Amazon.com
First Book