How Two Circuses, Two Countries, and Nine Kids Confront Conflict and Build Community
A portion of proceeds from sales of this book are donated to the Reggie Moore Memorial Scholarship* of Circus Harmony and to the Galilee Circus. 
Tikkun olam: Repairing the world—through circus
Can you imagine juggling knives—while balancing on a rolling globe? How about catching someone who is flying toward you after springing off a mini-trampoline? And what about planning these tricks with kids who speak different languages? Welcome to the world of youth "social circus"—a movement that uses circus arts to promote social change. 
A nonfiction book for 10- to 14-year-olds, Watch Out for Flying Kids! follows nine teenage troupers in two circuses. The members of Circus Harmony in St. Louis are inner-city and suburban kids. The Galilee Circus in Israel is composed of Jews and Arabs. When they get together for Peace Through Pyramids, they confront racism in the Midwest and tribalism in the Middle East, as they learn to overcome assumptions, animosity, and obstacles, that are physical, personal, and political. Join them as they cheer each other with a ta da! and a sababa!
The Flying Kids fly all over the place! Check them out at:
"…a thoroughly enjoyable volume. Enchanting indeed—and inspiring as well."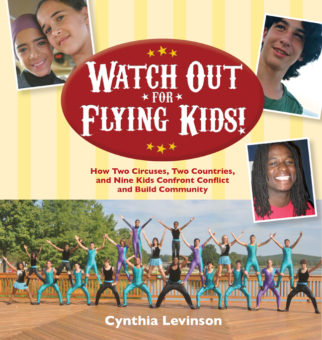 Learn More:
Resources for Teachers
Resources for Students
Awards & Reviews
Buy Now:
Indiebound
Barnes & Noble
Amazon.com